Father-daughter coaching duo leads Barry Goldwater softball
March 23, 2021 by David Payne, Arizona State University
---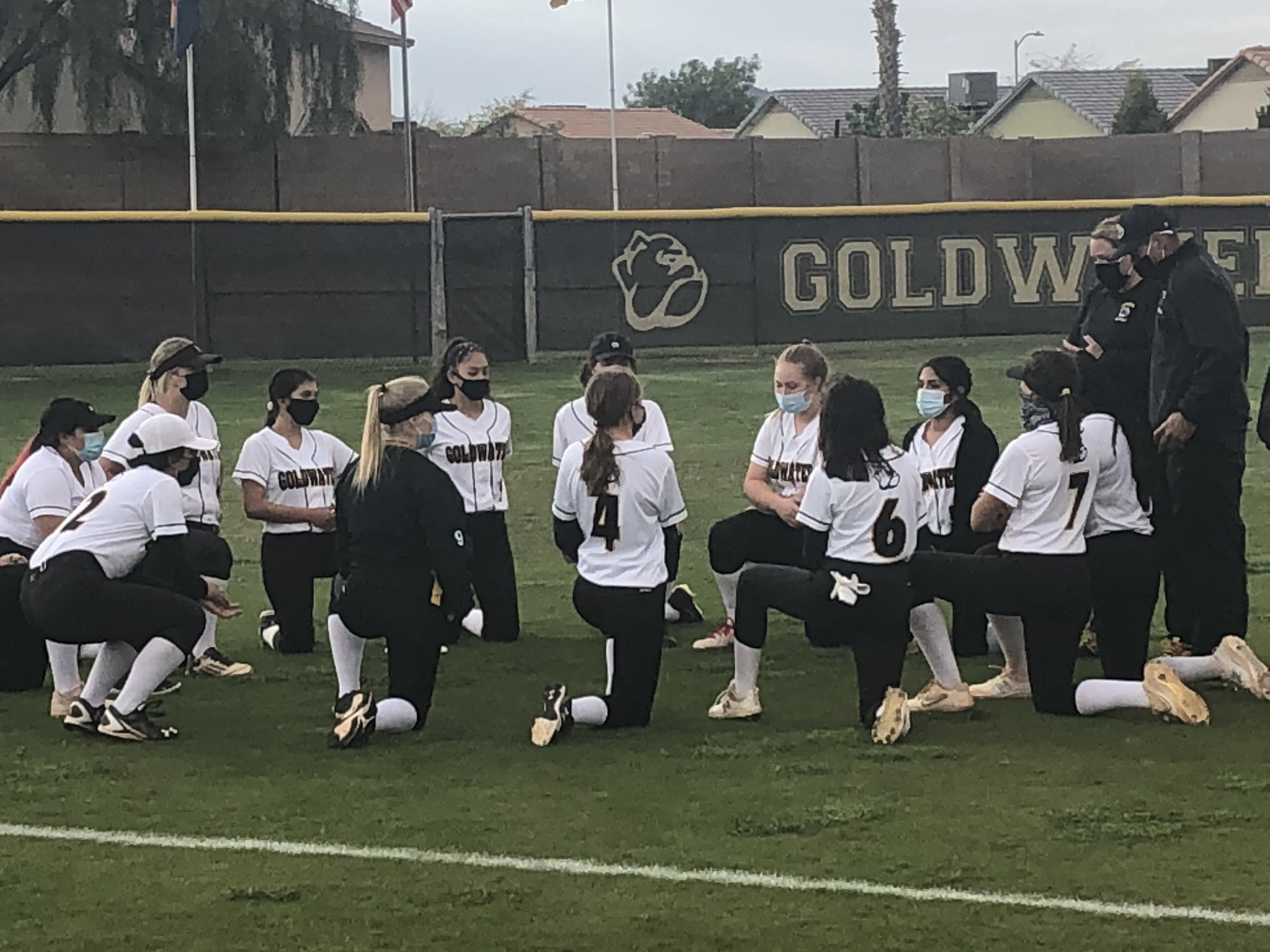 David Payne is an ASU Cronkite School of Journalism student assigned to cover Barry Goldwater High School for AZPreps365.com
There are many ways a father and daughter can bond with one another. From having a tea party with stuffed animals to letting her paint his toenails and play dress-up. But for Dean and Cassie Roessing, it's softball.
"If it wasn't for my daughter, I wouldn't be coaching," Dean said. "She's what got me out here."
In 2014, Dean became the head coach of Barry Goldwater High School's softball team. Before that, he was an assistant coach for the school's baseball team for five years. He said seeing his daughter play encouraged him to switch sports.
"When she first started playing I wasn't coaching softball and I came out and watched them play…and that's when I got involved and she carried me all the way through it."
Cassie played softball for the Bulldogs from 2009-2012 before playing for Phoenix College and the University of Nebraska-Kearney. This is her third season as an assistant coach for the team and she said playing at the collegiate level taught her a lot about the game and about coaching.
"College ball teaches you a whole new dynamic," Cassie said. "It teaches you more little things about the game that you can bring to this high school level to make your team that much better."
Since softball has brought Dean and Cassie together for years, they say working together is fun, for the most part.
"Most of the time we know what each other is thinking and we don't have to say it but I'm the first one that gets in trouble most of the time, but we have fun," Cassie said chuckling.
"My frustrations come out on her and she hears it a lot," Dean said. "But at the end of the day, it's still just a game."
"Ninety-nine percent of the time it's fun and when this chapter of my life is over I'm going to really appreciate it," Cassie said.
The Bulldogs had their 2021 season opener on Tuesday at home where they lost 17-2 to Cactus High School. Cobras pitcher Angelica Tello, a junior, held Goldwater hitless until the fourth inning.
Goldwater's Kaitlyn McCain, a senior who played second base and pitched in relief for part of the game, got the Bulldogs' first base hit in the bottom of the fourth inning. Senior infielder Brianna Imperial then advanced McCain to second base with a sacrifice bunt before junior catcher Pam Gumo smashed a home run to center field to score Goldwater's only two runs of the game.
Despite being down the entire game, the Bulldogs kept their heads and spirits high. Gumo said she learned that from both Dean and Cassie.
"I've learned to be loud, to be confident, to keep my team up, and to just be a good leader from them," Gumo said.
Barry Goldwater finished last season with a 6-2-1 record when it was cut short due to the COVID-19 pandemic. Dean said there is plenty of room for growth.
"We've got to be more focused and disciplined at the plate, so that's what we're going to be working on," Dean said.
The Bulldogs are hoping to play a full season this year and although Dean isn't sure when he'll retire he said he'd love to see Cassie take over as head coach one day.
"I haven't set a date that I'm going to quit and hang it up. If ASU calls I might have to," Dean said with a laugh. "It was always my plan to have her take over but with her future and what she wants to do it may not be possible but we'll see. If I do call it quits, she'll have the first chance at it and the school will support her."
Cassie currently works as the secretary for the athletic director at Barry Goldwater but said she is hoping and planning to pursue a job in law enforcement and is just "waiting for the call."
"But until then, I'll be right here," Cassie said.
Dean, Cassie and the Bulldogs will head to Moon Valley High School (0-1) to play at 4 p.m. Thursday for their second game of the season.